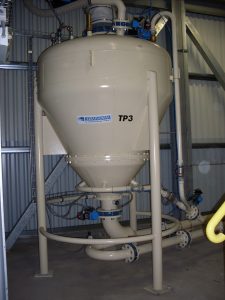 Pneumatic transfer is an alternative to mechanical conveying solutions: powders or granules are driven by a gaseous stream resulting in a two-phase (gas/solid) flow.
There are two different transfer systems (overpressure or vacuum) and two transfer phases (dilute phase or dense phase).
Phases are dilute or dense depending on the concentration of solid materials in the gas conveyor and are distinguished by a threshold value.
The choice of transfer system and transfer phase depends on the type of material to be transferred, the type of conveyor gas, the configuration of the installation and performances which are expected (mass output, abrasion constraints, segregation or attrition…).
We take all these parameters into account and select the pneumatic transfer system which is best suited to the properties of the products and seek to optimize CAPEX/OPEX.
We have a range of different technical solutions for pneumatic transport:
Dilute phase: rotary or venture valves
Dense phase: tank systems (with or without additional air injectors along the pipework) or screw pumps
Our industrial solutions can be designed specifically for zones with potentially explosive atmospheres.


# Main assets of pneumatic transfer
Dust-free transfer of various types of products (safe, no material loss, protection of transferred product)
Flexibility of the transport circuit (vertical and horizontal transfer, via the addition of bends/elbows)
The possibility of a multi-supply and/or a multi-destination system
Low maintenance and labor costs
Multiple uses (one system can be suitable for several types of product)
 
# Industrial applications of our pneumatic transfer systems