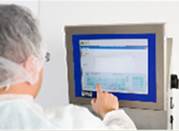 Control systems for our installations
The typical architecture of the control/piloting solutions we suggest with our installations comprises monitoring (developed on Wonderware InTouch or equivalent), batch management software (Prodose module – see page dedicated to Prodose) and the automation programme.
We can also meet your specifications in terms of component brands (automation equipment, speed variators…) and software used.
Our systems can be equipped with a remote connection system. We also suggest application management contracts which enable our teams to provide you with remote assistance throughout the service-life of your installation.