Our solutions for ATEX areas
Your production process may generate a risk of explosion due to the use of potentially flammable substances in either gas, vapour, mist or dust (polymers, sugar, starch…) form.
Our equipment and our installations can be designed based on your safety areas and your materials, in accordance with the ATEX 2014/34/CE Directive.
Our experience and expertise in the field enable us to suggest the technical solutions and safety measures that are best suited to your requirements, thus guaranteeing you a fully safe production process!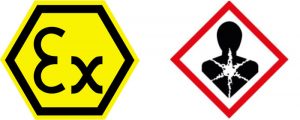 Our solutions for the handling of CMR substances
Your operators may be exposed to dangerous situations when handling Carcinogenic, Mutagenic, Reprotoxic (CMR) classified substances.
We develop dedicated technical solutions that limit the exposure of operators to these substances.